Sky Meadows

State Park - Virginia
Sky Meadows State Park is located in extreme northwest Fauquier County, Virginia in the Blue Ridge Mountains, near Paris, Virginia. It is about an hour outside of the Washington, D.C. metro region. It starts in a valley between the foothills and the Blue Ridge Mountains, then has meadows and forests stretching up to the ridge of the mountain and the Appalachian Trail. There is a basic walk-in campground, over 12 miles (19 km) of hiking trails and 6 miles (10 km) of bridle paths. The horse trails are east of US 17 and the hiking trails (and most of the park) is west of US 17. With a combination of meadows, grazed fields, forest, scrub, and streams, it has a wide variety of ecological zones.
maps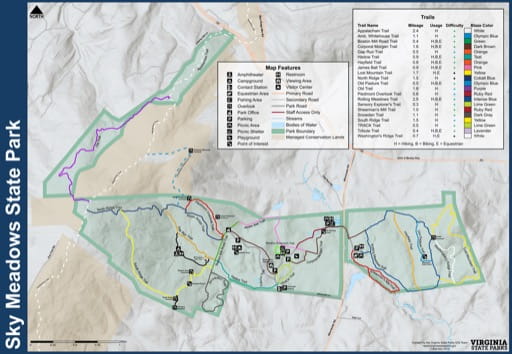 Sky Meadows - Visitor Map
Visitor Map of Sky Meadows State Park (SP) in Virginia. Published by Virginia State Parks.