Shenandoah River

State Park - Virginia
Shenandoah River State Park, is near the town of Bentonville, Virginia, along 5.2 miles of shoreline at the South Fork Shenandoah River. In addition to meandering river frontage, the park offers scenic views of Massanutten Mountain to the west and Shenandoah National Park to the east. A large riverside picnic area, picnic shelters, trails, river access and a car-top boat launch make this a popular destination for families, anglers and canoeists. Ten riverfront tent campsites, a campground with water and electric sites, cabins, camping cabins and a group campground are available. With more than 24 miles of trails and a new zipline, the park has plenty of options for hiking, biking, horseback riding and adventure.
maps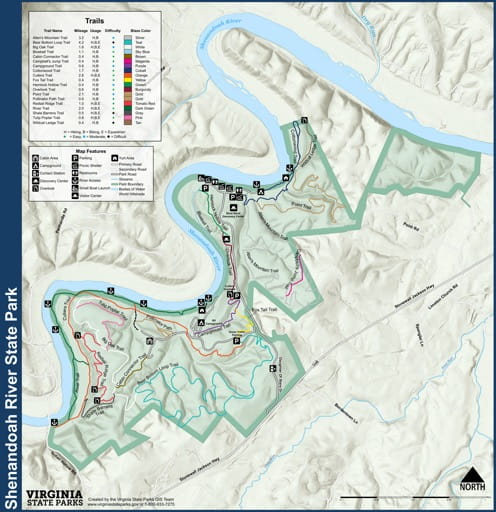 Shenandoah River - Visitor Map
Visitor Map of Shenandoah River State Park (SP) in Virginia. Published by Virginia State Parks.

Shenandoah - Visitor Map
Official Visitor Map of Shenandoah National Park (NP) in Virginia. Published by the National Park Service (NPS).