Powhatan

State Park - Virginia
Powhatan State Park is located along the James River in Powhatan County, Virginia. The park has about 7.3-mile (11.7 km) of multi-use (hiking, biking, horse riding) trails through a number of diverse habitats including field edge, upland pine and mature hardwoods. The trails provide opportunities for viewing wildlife. Equestrian parking is now open and horses are welcome on several trails. The park has about 2.5-mile (4.0 km) of James River waterfront accessible by a canoe slide launch. Fishing access to the river bank is limited because of high bluffs. Visitors launching a canoe or kayak from the park may enjoy a 5-mile float down river to the Maidens boat launch.
maps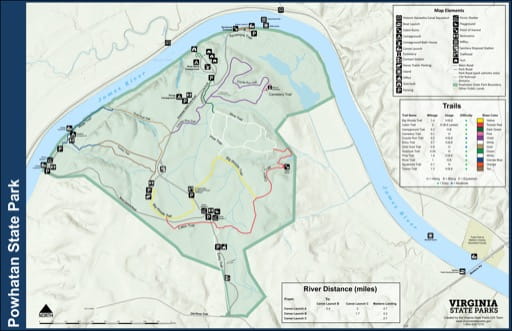 Powhatan - Visitor Map
Visitor Map of Powhatan State Park (SP) in Virginia. Published by Virginia State Parks.