James River

State Park - Virginia
James River State Park is located along the James River in Buckingham County, Virginia. It preserves part of the route of the Kanawha Canal in addition to portions of the river. One of the many attractions at James River State Park is the park's more than 130 acres (0.53 km2) of native warm season grasses that blanket fields adjacent to the James River. These fields are maintained by periodic prescribed fire to facilitate growth of the native grasses.
maps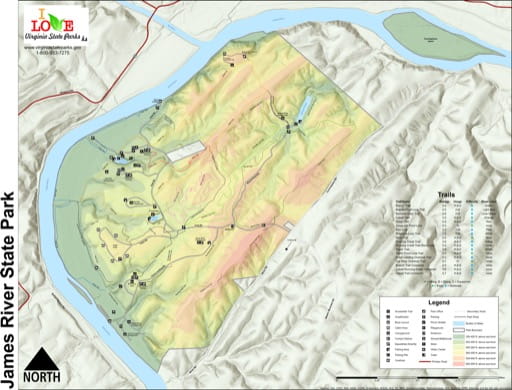 James River - Visitor Map
Visitor Map of James River State Park (SP) in Virginia. Published by Virginia State Parks.
Blue Ridge - Visitor Map
Official visitor map of Blue Ridge Parkway (PKWY) in North Carolina and Virginia. Published by the National Park Service (NPS).