Hyrum

State Park - Utah
Hyrum State Park is a state park and reservoir in Cache County, Utah. The park lies at 4,700 feet (1,400 m), and consists of 265 acres (1.07 km2) surrounding a 450-acre (1.8 km2) reservoir. It is used for fishing, boating, camping, picnicking, hiking, waterskiing, and swimming. The park was named for Hyrum Smith, the brother of LDS church founder Joseph Smith. Hyrum State Park's facilities are located at the northern shore of the reservoir, and include 31 RV campsites, restrooms, showers, a ranger station, boat ramp, dock, and trailheads.
maps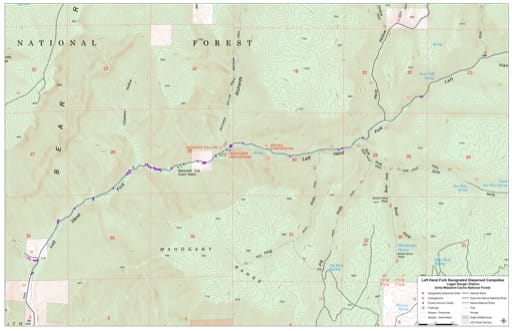 Uinta-Wasatch-Cache - Logan Ranger - Left Hand Fork Campsites
Map of Left Hand Fork Designated Dispersed Campsites in Logan Ranger District of Uinta-Wasatch-Cache National Forest (NF) in Utah. Published by the U.S. Forest Service (USFS)
brochures
Utah State Parks - Field Guide
Utah State Parks Field Guide. Published by Utah State Parks.
Utah State Parks - Utah Travel Guide
Utah Travel Guide. Published by visitutah.com
Utah State Parks - Utah Scenic Byways
Guide to Utah Scenic Byways. Published by visitutah.com