Sea Rim

State Park - Texas
Sea Rim State Park is located on the Gulf of Mexico in southern Jefferson County, south of Port Arthur and just west of Sabine Pass in Texas. The D. Roy Harrington Beach unit is the coastal portion of the park, offering beach access between the Gulf of Mexico and the mainland marshes. Swimming in the marshes is not permitted due to the presence of alligators. The Marshlands unit is located in the inland marshes of southern Jefferson County, and is only accessible by boat. The park does rent canoes and kayaks so that these areas of the park may be explored by visitors.
maps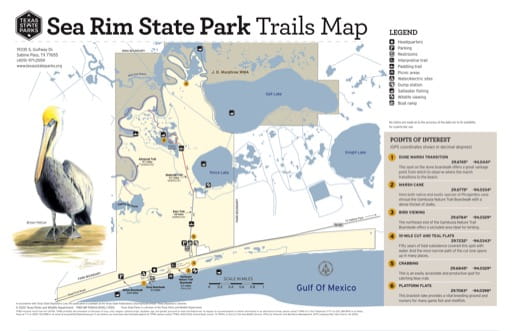 Sea Rim - Trails Map
Trails Map of Sea Rim State Park (SP) in Texas. Published by Texas Parks & Wildlife.