Pedernales Falls

State Park - Texas
Pedernales Falls State Park is located 10 miles (16 km) east of Johnson City. The park is on the Pedernales River, 14 miles (23 km) southwest of the river's mouth at Lake Travis. The Pedernales River offers swimming, tubing, wading and fishing. The park also has a number of picnic areas and campsites, including some primitive campsites that require a hike of two miles or more to reach. There are also 19.8 miles (31.9 km) of hiking and mountain biking trails, 10 miles of equestrian trails, and 14 miles of backpacking trails. The river is prone to variable water levels and flash floods.
maps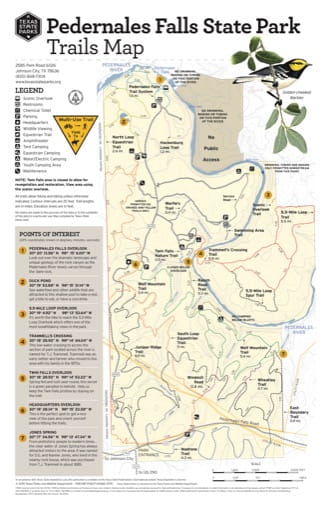 Pedernales Falls - Trails Map
Trails Map of Pedernales Falls State Park (SP) in Texas. Published by Texas Parks & Wildlife.