Lake Whitney

State Park - Texas
Lake Whitney State Park is located in Hill County near Whitney, Texas. The park lies on the Washita Prairie, and features both grasslands and woodlands. Wildlife includes raccoons, squirrels, foxes, coyotes, bobcats, and over 100 species of birds. Lake Whitney State Park has facilities for fishing, swimming, boating, water skiing, nature study, hiking, biking, wildlife observation, geocaching, and camping. Camping facilities include both campsites and screened shelters. There are 2.1 miles (3.4 km) of hiking trails in the park.
maps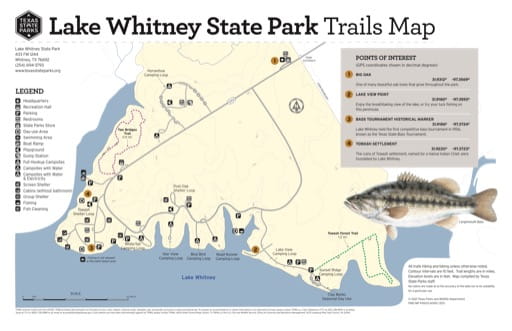 Lake Whitney - Trails Map
Trails Map of Lake Whitney State Park (SP) in Texas. Published by Texas Parks & Wildlife.