"Guadalupe River State Park"
by Stephen Rah ,
zero/1.0
Guadalupe River

State Park - Texas
Guadalupe River State Park is located on a section of the Guadalupe River in Kendall and Comal Counties, northwest of Bulverde, Texas. The park has four miles of river frontage for canoeing, fishing, swimming and tubing. Other activities include picnicking, hiking, birdwatching and camping. There is a 5.3 mile equestrian trail that can also be used for mountain biking. There is a two-hour guided interpretive tour of the adjacent Honey Creek State Natural Area.
maps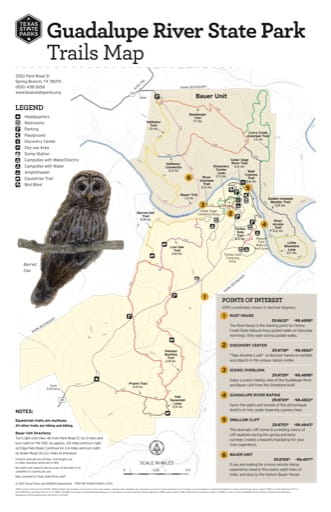 Guadalupe River - Trails Map
Trails Map of Guadalupe River State Park (SP) in Texas. Published by Texas Parks & Wildlife.