"004 - FULVOUS WHISTLING-DUCK (11-13-13) estero llano grande state park, weslaco, tx -03a"
by ALAN SCHMIERER ,
public domain
Estero Llano Grande

State Park - Texas
At Estero Llano Grande State Park the orchestra is always in full swing. You'll hear birds singing, insects buzzing, frogs peeping, water trickling, leaves rustling, and more. Performances held daily here in the Rio Grande Valley, about an hour northwest of Brownsville. Explore trails, add birds to your life list, attend a program, geocache or commune with nature. To protect the natural experience, cars are not allowed in the park. Plenty of parking is available at headquarters. Bring a bike if you want to explore on wheels!
maps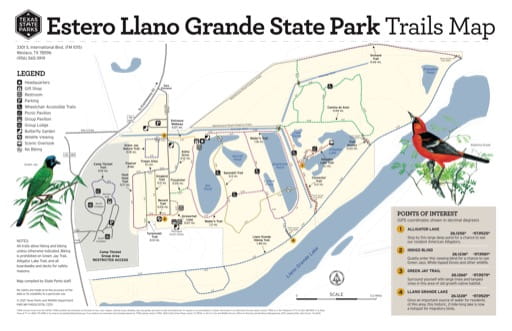 Estero Llano Grande - Trails Map
Trails Map of Estero Llano Grande State Park (SP) in Texas. Published by Texas Parks & Wildlife.