Enchanted Rock

State Natural Area - Texas
Enchanted Rock (16710 Ranch Rd 965, Fredericksburg TX) is a pink granite mountain located in the Llano Uplift approximately 17 miles (27 km) north of Fredericksburg, Texas and 24 miles (39 km) south of Llano, Texas, United States. Enchanted Rock State Natural Area spans the border between Gillespie County and Llano County, south of the Llano River. Enchanted Rock rises approximately 425 feet (130 m) above the surrounding terrain to elevation of 1,825 feet (556 m) above sea level. It is the largest pink granite monadnock in the United States.
maps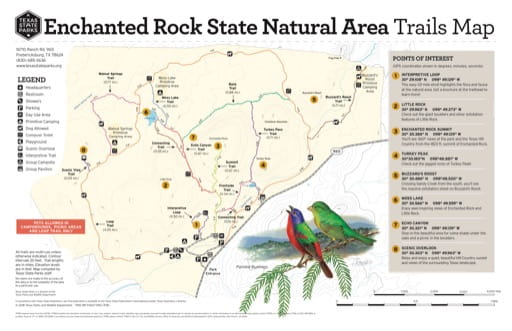 Enchanted Rock - Trails Map
Trails Map of Enchanted Rock State Natural Area (SNA) in Texas. Published by Texas Parks & Wildlife.