Devils River

State Natural Area - Texas
Devils River State Natural Area part of three ecosystems, the Edwards Plateau, the Tamaulipan mezquital and the Chihuahuan Desert. It is located 66 miles (106 km) north of Del Rio, Val Verde County in the U.S. state of Texas. Dolan Falls in the natural area is the highest volume waterfall in Texas. The area was once home to the Comanche, Kiowa and Kickapoo tribes. Pictographs painted with red panthers are found in the area's fifty-three rock shelters, which archeologists have dated to 3000 b.c. The area is home to many varieties of flora and fauna, including the Mexican free-tailed bat as well as live oak, pecan and sycamore trees.
maps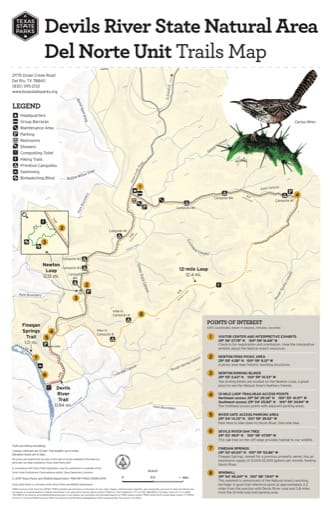 Devils River - Trails Map
Trails Map of Devils River State Natural Area (SNA) in Texas. Published by Texas Parks & Wildlife.