Cleburne

State Park - Texas
Cleburne State Park is located in Johnson County, Texas. The park includes the 116-acre (0.47 km2), spring-fed Cedar Lake that was created by construction of an earthen dam by the Civilian Conservation Corps. Fishing is an extremely popular activity on the lake. Any size boat is allowed on Cedar Lake, but the speed on the lake is restricted to No Wake. Personal Water Crafts or PWCs are not allowed since Cedar Lake is considered a community fishing lake 13 miles (21 km) of mountain bike trails of various skill levels are available in a loop around the park. The terrain on the trail is diverse, including hills and flats. Hiking is also allowed on these trails and there are at least two geocaches located in the park.
maps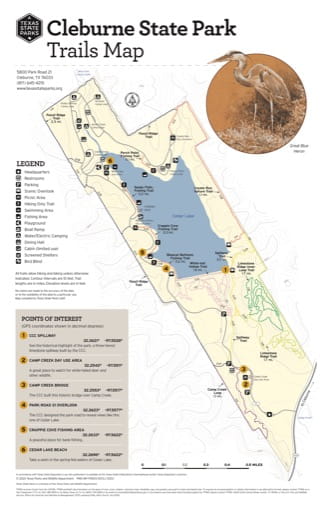 Cleburne - Trails Map
Trails Map of Cleburne State Park (SP) in Texas. Published by Texas Parks & Wildlife.