Caddo Lake

State Park - Texas
Caddo Lake State Park is a located in Harrison County, near Karnack, in eastern Texas. Caddo Lake is one of only a handful of natural lakes in Texas. The lake was created by a gigantic log jam known as the Great Raft. The average depth of the lake is 8–10 ft (2.4–3.0 m), with the deep water in the bayou averaging about 20 ft (6.1 m). An angler's delight, the lake contains 71 species of fish. It is especially good for crappie, largemouth bass, and white bass. Naturalists can enjoy stately cypress trees, American lotus, water lilies, waterfowl, alligators, turtles, frogs, snakes, raccoons, mink, coypu, beavers, squirrels, armadillos, and white-tailed deer.
maps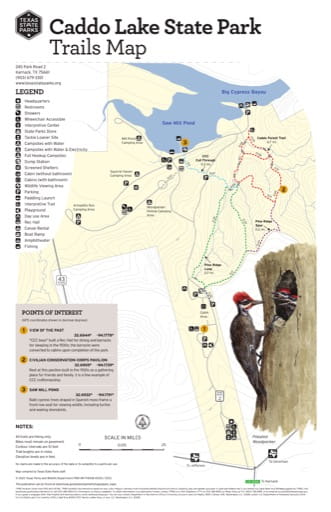 Caddo Lake - Trails Map
Trails Map of Caddo Lake State Park (SP) in Texas. Published by Texas Parks & Wildlife.