Caprock Canyons

State Park & Trailway - Texas
Caprock Canyons State Park and Trailway is located along the eastern edge of the Llano Estacado in Briscoe County, Texas, approximately 100 miles (160 km) southeast of Amarillo. In 1993, a hiking, biking, and equestrian rail trail opened that stretches through the park through Floyd, Briscoe, and Hall counties. The trailway was created after the Texas Parks and Wildlife Department acquired 64.25 miles (103 km) of right-of-way from the abandoned Fort Worth and Denver Railroad's lines between Estelline and South Plains.
maps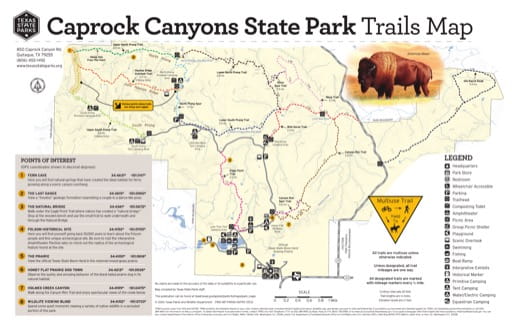 Caprock Canyons - Trails Map
Trails Map of Caprock Canyons State Park and Trailway (SP & Trailway) in Texas. Published by Texas Parks & Wildlife.