by Alex Gugel ,
all rights reserved
Brazos Bend

State Park - Texas
Brazos Bend State Park is along the Brazos River in Needville, Texas. The park is a haven for a diverse mix of native wildlife and plants covering an equally diverse range of ecosystems. Brazos Bend contains areas of coastal prairie, bottomland forest, and a wide range of wetlands including open and semi-open lakes and transitional marshlands. Highlights of the Park's numerous inhabitants include over 300 species of resident and visiting migratory birds and mammals such as the white-tailed deer, nine-banded armadillo, raccoon, and North American river otter. The most noteworthy and popular residents of the park are the relatively large population of American alligators. The park is open year-round, with the exception of several weekends a year during which it is closed for controlled hunts to manage the white-tailed deer population.
maps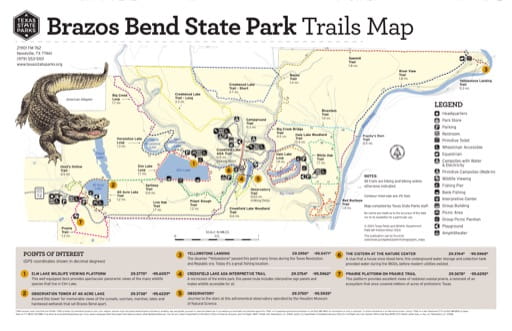 Brazos Bend - Trails Map
Trails Map of Brazos Bend State Park (SP) in Texas. Published by Texas Parks & Wildlife.