"K'alyaan Pole in the Fort Site"
by NPS ,
public domain
Sitka

National Historical Park - Alaska
Sitka National Historical Park (earlier known as Indian River Park and Totem Park) is a national historical park in Sitka in the U.S. state of Alaska. It was redesignated as a national historical park from its previous status as national monument on October 18, 1972. The park in its various forms has sought to commemorate the Tlingit and Russian experiences in Alaska.
maps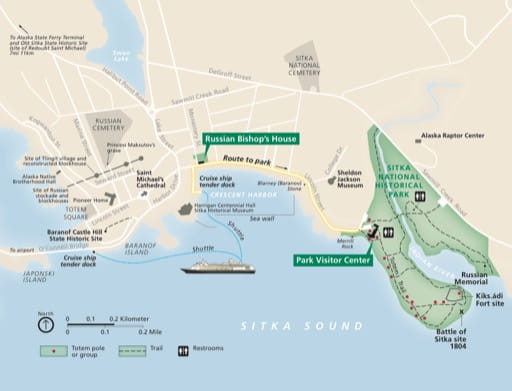 Sitka - Visitor Map
Official visitor map of Sitka National Historical Park (NHP) in Arkansas. Published by the National Park Service (NPS).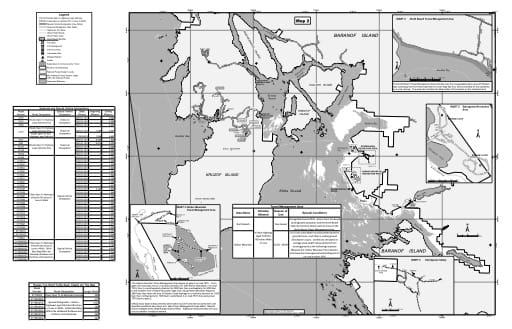 Tongass MVUM - Sitka Map 2 - 2023
Map 2 of the Motor Vehicle Use Map (MVUM) of Sitka Ranger District (RD) of Tongass National Forest (NF) in Alaska. Published by the U.S. Forest Service (USFS).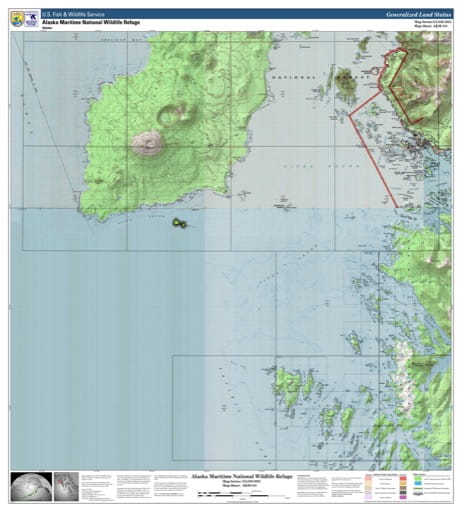 Alaska Maritime NWR - AKM-181 2021
Map sheet AKM-181 for the Alaska Maritime National Wildlife Refuge (NWR) in Alaska. Published by U.S. Fish and Wildlife Service (USFWS).
https://www.nps.gov/sitk/index.htm https://en.wikipedia.org/wiki/Sitka_National_Historical_Park Sitka National Historical Park (earlier known as Indian River Park and Totem Park) is a national historical park in Sitka in the U.S. state of Alaska. It was redesignated as a national historical park from its previous status as national monument on October 18, 1972. The park in its various forms has sought to commemorate the Tlingit and Russian experiences in Alaska. On an island amid towering spruce and hemlock, Sitka National Historical Park preserves the site of a battle between invading Russian traders and indigenous Kiks.ádi Tlingit. Totem poles from Tlingit and Haida areas line the park's scenic coastal trail, and the restored Russian Bishop's House is a rare reminder of Russia's colonial legacy in North America. Sitka National Historical Park is located in downtown Sitka, Alaska. Sitka is situated on Baranof Island, on the outer coast of Alaska's Inside Passage. No roads connect the city to the mainland; Sitka can be reached only by air or sea. Visitors can travel to Sitka by scheduled and charter air services, ferry, and cruise ships. Russian Bishop's House One of only four Russian period buildings left in North America. Explore exhibits about Russian America and the role of the Russian Orthodox Church. Free tours are offered May to September. Hours of operation vary depending on staff availability. Visitor Center Explore exhibits about traditional Tlingít life and see drums, robes, and other ceremonial objects. A 12-minute film, "The Voices of Sitka," weaves together the stories of Sitkans, past and present. The nearby Totem Trail displays Northwest Coast totem poles and leads to the site of the Battle of 1804. Sitka National Historical Park's visitor center and Totem Loop Trail is located at the east end of Lincoln Street, approximately one-quarter mile from downtown Sitka. The visitor center and Russian Bishop's House are located about a ten-minute walk apart in this essentially urban park. Sitka National Historical Park Visitor Center Visitor Center from the beach. The Visitor Center contains exhibits, a 15 minute park video, and Tlingit and Haida art. Russian Bishop's House Reception Room Reception room in the Russian Bishop's House Tour the Russian Bishop's House to see Russian American architecture and lifestyle restored. Russian Bishop's House Russian Bishop's house from the front. One of the last remaining examples of Russian American architecture. Salmon Run Salmon run in the Indian River Salmon run in the Indian River from mid-July until late September. Mosquito Legend Pole Mosquito Legend Pole See the Park's 18 Totem Poles with a walk along the Totem Trail. Sitka National Historical Park Survey During its first comprehensive archeological inventory, Sitka National Historical Park in Alaska discovered the location of the Tlingit fort built to prepare for battle with Russian colonists. Materials from the Battle of Sitka in 1804 include several cannon balls and musket balls. The inventory team used metal detectors and other geophysical methods in addition to other survey techniques to identify the fort site and areas that will receive further investigation. [illustration] Overhead view of fort. Salmon Density in Southeast Alaska Coastal Rivers Read the abstract and get the link to the article published in Ecosphere: Sergeant, C. J., J. R. Bellmore, C. McConnell, and J. W. Moore. 2017. High salmon density and low discharge create periodic hypoxia in coastal rivers. Ecosphere 8(6):e01846. 10.1002/ecs2.1846 Salmon run on the Indian River. Kittlitz's murrelets abundance estimates, 2009-2015 The Southeast Alaska Inventory and Monitoring Network completed abundance estimates for the Kittliz's murrelet in Glacier Bay proper. Kittlitz's murrelet in flight. National Park Getaway: Sitka National Historical Park Take a tour of Sitka National Historical Park with a banana slug as a guide. Explore the natural and cultural heritage of the oldest park in Alaska discovering its rich history, biodiversity, and recreational opportunities. Ranger giving a program at the base of a totem pole A History of Science in Alaska's National Parks National park units in Alaska precede the establishment of the National Park Service in 1916. The first park unit, Sitka National Monument, was conceived in 1908, and by the mid-1920s four national monuments along with Alaska's first national park were part of the growing park system. Discover how the early 1900s and observations of a few helped to establish the National Park Service in Alaska. Black and white photo of Arno Cammerer sitting at his desk looking through papers. Bears in Totem Poles of the Northwest Coast Natives Totem poles are carved with striking designs and colors, many depicting bears. Ghaanaxh.adi/Raven Crest Pole NPS Geodiversity Atlas—Sitka National Historical Park, Alaska Each park-specific page in the NPS Geodiversity Atlas provides basic information on the significant geologic features and processes occurring in the park. [Site Under Development] forest trail Monitoring and Park Management Read the abstract and get the link to an article published in Ecosphere: Rodhouse, T. J., C. J. Sergeant, and E. W. Schweiger. 2016. Ecological monitoring and evidence-based decision-making in America's National Parks: highlights of the Special Feature. Ecosphere 7(11):e01608. NPS at work on a boat. Effects of Cruise Ship Emissions on Air Quality and Terrestrial Vegetation in Southeast Alaska Increased tourism in Southeast Alaska has raised concerns about the levels and ecological effects of air pollutants emitted by cruise ships in dock and in transit. A monitoring program is in place to measure regional and local air pollutants accumulated by vegetation and in deposition. An image looking down at cruise ships docked at Skagway harbor, with haze hovering between mountains 2019 Science Education Grants The Murie Science and Learning Center (MSLC) funds numerous outreach projects through the Science Education Grant program. These grants help MSLC partner parks pay for science education outreach projects. Funding for the Science Education grant program is provided by Alaska Geographic. Read about the 2019 Science Education Grant recipients and their outreach projects. a park ranger and kids standing in shallow lake water Tlingit Archeology, Legends, and Oral Histories at Sitka National Historical Park Archaeology helps uncover stories from prehistoric Sitka, which has been home to the Tlingit for thousands of years. In more recent times, it also served as the capital of Russian America, and now hosts the oldest national park in Alaska. one-story structure surrounded by drying fish in a forest clearing Future Challenges for Salmon and the Freshwater Ecosystems of Southeast Alaska Mass animal migrations are awe-inspiring sights. Every summer and fall, residents and visitors to Alaska can witness one of the great underwater migrations: Pacific salmon returning from the ocean to their home streams, rivers, and lakeshores to spawn. Hundreds of millions of salmon return to Alaska's freshwaters annually. Alaska Park Science 17(1), 2018. A group of red salmon. 2018 Science Education Grants The Murie Science and Learning Center (MSLC) funds numerous outreach projects through the Science Education Grant program. These grants help MSLC partner parks pay for science education outreach projects. Funding for the Science Education grant program is provided by Alaska Geographic. Read about the 2018 Science Education Grant recipients and their outreach projects. an instructor and a camper work on a carving Water Quality Practitioner's Guide Read the abstract and find the link to the article published in Environmental Monitoring and Assessment: Sergeant, C. J., E. N. Starkey, K. K. Bartz, M. H. Wilson, and F. J. Mueter. 2016. A practitioner's guide for exploring water quality patterns using Principal Components Analysis and Procrustes. Environmental Monitoring and Assessment 188(4):1-15. Researchers collecting water quality data. Influence of Climate Change on Geohazards in Alaskan Parks Alaska's parks are dynamic and are undergoing constant geomorphic change as glaciers and streams erode and cliffs collapse. Based on climate projec-tions, some permafrost in Alaska will thaw, and many glaciers will thin and retreat, over the remainder of this century, uncovering potentially unstable valley walls. Both permafrost thaw and glacier thinning will contribute to an increase in the incidence of landslides. mountain with its base eroded away 2017 Science Education Grants The Murie Science and Learning Center (MSLC) funds numerous outreach projects through the Science Education Grant program. These grants help MSLC partner parks pay for science education outreach projects. Funding for the Science Education grant program is provided by Alaska Geographic. Read about the 2017 Science Education Grant recipients and their outreach projects. two girls sit in a kayak out on the water Prey Pulses in a Marine Environment Forage fish serve an important role in our marine environment; these fish serve as prey for many fish, seabirds, and marine mammals. whale fluke in water Freshwater Quality Monitoring The Southeast Alaska Inventory and Monitoring Network monitors the health of the Salmon, Taiya, and Indian Rivers in Alaska. This article reports on the recent findings on the water quality of these rivers. salmon river in Alaska Alaska Aviation Safety In Alaska, small planes are often the best way to get around but flying has its risks. Aviation safety requires more than just a pilot's skill–it takes all of us. Learn more about aviation to increase the safety of your next park flight. An NPS pilot in a plane cockpit flying over a turquoise lake The 19th Amendment, Elizabeth Peratrovich, and the Ongoing Fight for Equal Rights In Alaska, women's suffrage passed in 1913—seven years prior to the 19th Amendment—and antidiscrimination legislation passed nearly 20 years prior to the major national civil rights bills of the 1960s. In the 1940s, Elizabeth Peratrovich—a Tlingit woman who was Grand President of the Alaska Native Sisterhood—led the charge to end discrimination against Alaska Natives. gold coin of a raven, a woman's face, and words elizabeth peratrovich anti-discrimination law Series: Alaska Park Science - Volume 12 Issue 2: Climate Change in Alaska's National Parks In this issue: * Status and Trends of Alaska National Park Glaciers * Tracking Glacial Landscapes: High School Science Gets Real * Climate Change Scenario Planning Lessons from Alaska a hillside overlooking a wide valley filled by a glacier, surrounded by steep mountains Series: The Legacy of ANILCA The Alaska National Interest Lands Conservation Act impacts the National Park Service in many ways. ANILCA stipulates the designation of wilderness, subsistence management, transportation in and across parklands, use of cabins, mining, archaeological sites, scientific research studies and more. Two men drag a harvest seal from icy blue waters across frozen ice. Series: National Park Service Geodiversity Atlas The servicewide Geodiversity Atlas provides information on <a href="https://www.nps.gov/subjects/geology/geoheritage-conservation.htm">geoheritage</a> and <a href="https://www.nps.gov/subjects/geology/geodiversity.htm">geodiversity</a> resources and values all across the National Park System to support science-based management and education. The <a href="https://www.nps.gov/orgs/1088/index.htm">NPS Geologic Resources Division</a> and many parks work with National and International <a href="https://www.nps.gov/subjects/geology/park-geology.htm">geoconservation</a> communities to ensure that NPS abiotic resources are managed using the highest standards and best practices available. park scene mountains Series: Alaska Park Science - Volume 17, Issue 1. Migration: On the Move in Alaska Alaska is home to many amazing animal migrations. In this issue, you will read about caribou, salmon, Golden Eagles, Swainson's Thrushes, beluga whales, and more. Human migrations have also occurred here, from ancient Beringia to the Klondike Gold Rush. You can even read about now-extinct species from the Cretaceous and Pleistocene eras. Enjoy this issue of Alaska Park Science and read about migration. Alaska Park Science 17(1), 2018. Caribou swim across a river. Series: Alaska Park Science - Volume 10 Issue 1: Connections to Natural and Cultural Resource Studies in Alaska's National Parks This issue delves into a variety of topics, including: Glaciers in Denali | Prehistoric Tools in Gates of the Arctic | Remnants of WWII battles in the Aleutians | A projection of fire activity based on climate change predictions; and more! caribou wading through a river, words Alaska Park Science Water Quality Monitoring, 2018 Annual Update Water quality is an important and sensitive indicator of aquatic and terrestrial ecosystem health. Monitoring river and stream conditions helps scientists and park managers detect environmental patterns driven by human activity, climate change and watershed dynamics, then use that information to make better-informed decisions. The following is a data summary from 2018 for Southeast Alaska parks. An aerial view of the watershed of the Taiya River Water Quality Monitoring, 2020 Annual Update Water quality is an important and sensitive indicator of aquatic and terrestrial ecosystem health. Monitoring river and stream conditions helps scientists and park managers detect environmental patterns driven by human activity, climate change and watershed dynamics, then use that information to make better-informed decisions. The following is a data summary from 2020 for Southeast Alaska parks. A sonde in the Indian River Water Quality Monitoring, 2019 Annual Update Water quality is an important and sensitive indicator of aquatic and terrestrial ecosystem health. Monitoring river and stream conditions helps scientists and park managers detect environmental patterns driven by human activity, climate change and watershed dynamics, then use that information to make better-informed decisions. The following is a data summary from 2019 for Southeast Alaska parks. Salmon crowd the aptly named Salmon River. Bumble Bees of Alaska: A Field Guide This field guide to bumble bees will help you identify these abundant and conspicuous pollinators, which are found across most of Alaska. They are well-adapted to cold, harsh climates and live in every habitat where there are flowers offering up pollen and nectar, including forests, shrublands, tundra, wetlands, riparian areas, beaches, and gardens. a bumble bee perched on tiny pink flowers Current Generation Carving Apprentice Connects with Traditions of the Past and Shares Aspirations for the Future Get to know Tim Flanery, Tlingit carving apprentice working in Sitka, Alaska! a man smiling for a photo The Legacy of George Benson (Lkeináa), Tlingit Carver and Community Mentor George Benson's role as a carver, advocate, and mentor as truly significant to future generations of traditional native artists. A middle aged man wearing a blue shirt holding a paintbrush. A totem pole is laying in front of him. Shis'g'i Noow, the Tlingit Fortified Village The Sheet'ká Kwáan (the Tlingit people of the Sitka area), a tribe of the Northern Tlingit, occupied the western half of Baranof Island, the greater portion of Chichagof Island and smaller islands seaward. Archeological surveys have sought to find physical evidence to corroborate traditional knowledge about lifeways starting over 3,000 years ago. Tlingit fishing camp New Canoe Takes its Maiden Voyage in Sitka Sound A Tlingit Master Carver and his apprentice spent the winter of 2021/2022 carving a traditional dugout canoe out of a Sitka spruce log, and launched it in Sitka Sound on February 26.2022. Water Quality Monitoring, 2021 Annual Update Water quality is an important and sensitive indicator of aquatic and terrestrial ecosystem health. Monitoring river and stream conditions helps scientists and park managers detect environmental patterns driven by human activity, climate change and watershed dynamics, then use that information to make better-informed decisions. The following is a data summary from 2021 for Southeast Alaska parks. A sonde in the Indian River Battle of the Bark Trees shade us from the sun, provide homes for wildlife, stabilize Earth's surface, and produce food for humans and animals alike. Some are massive, and others are miniscule by comparison, but what makes one better than the other—we'll let you decide! Check out our iconic trees below and find your favorite! Five thick barked red-brown trees are backlit by the sunlight. Tracking a Flu Strain That's Killing Wild Birds When confronted with a seemingly uncontrollable disease, surveillance matters. National parks are important watchdogs in the search to know more. NPS employee in safety gear handles a juvenile condor 50 Nifty Finds #11: Carving a Place in NPS History Few employees have left as visible a mark on National Park Service (NPS) exhibits as John A. Segeren. His work has been enjoyed by generations of park visitors who never knew his name but appreciated his intricate wood carvings and playful animal figures displayed in parks throughout the system. A master woodcarver described by former President Lyndon B. Johnson as "a legacy to this country," Segeren carved out his own place in NPS history. Round wooden plaque with bison, globe, and waterfall