"The USS Arizona Memorial"
by NPS photo by Brett Seymour ,
public domain
Pearl Harbor

National Memorial - Hawaiʻi
Pearl Harbor National Memorial is located on the island of Oahu, Hawaii. The site commemorates the events of the Attack on Pearl Harbor on December 7, 1941, which killed over 2,400 Americans and sank twelve ships. The site includes the USS Arizona Memorial, the USS Utah memorial, the USS Oklahoma memorial, six chief petty officer bungalows on Ford Island, mooring quays F6, F7, and F8, which formed part of Battleship Row, and the visitor center at Halawa Landing. Nearby are the USS Missouri memorial, USS Bowfin museum, and Pearl Harbor Aviation Museum, which are designated historic attractions within the Pearl Harbor Naval Complex.
maps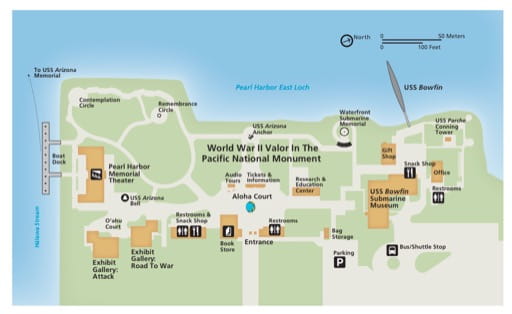 Pearl Harbor - Visitor Map
Official visitor map of Pearl Harbor National Memorial (NMEM) in Hawaiʻi. Published by the National Park Service (NPS).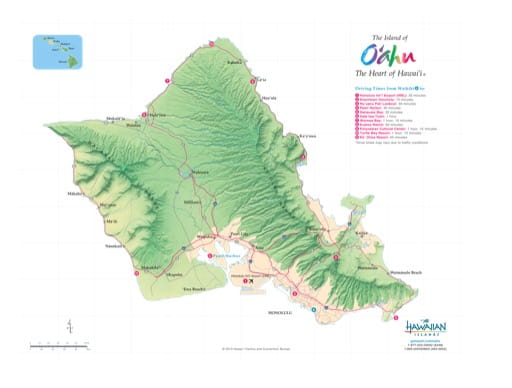 Oʻahu - Driving Map
Driving Map of Oʻahu (Oahu) in Hawaii. Published by the Hawaii Visitors & Convention Bureau.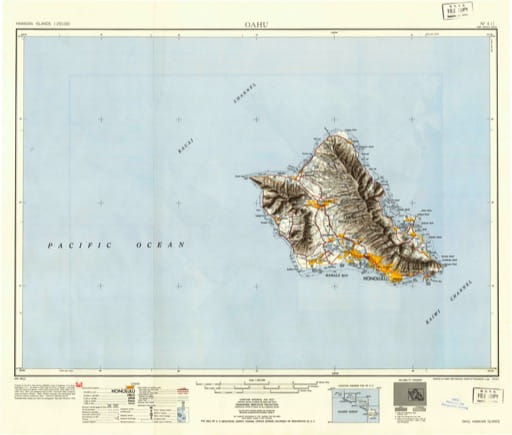 Oʻahu - Vintage USGS Map - Oahu 1951
Vintage map of Hawaiian Islands - Oahu 1951. Published by the U.S. Geological Survey (USGS).