"MABI Gardens & Mansion in Summer"
by L. Shahi ,
public domain
Marsh - Billings - Rockefeller

National Historical Park - Vermont
Marsh-Billings-Rockefeller National Historical Park is located in Woodstock, Vermont. The park preserves the site where Frederick Billings established a managed forest and a progressive dairy farm. The name honors Billings and the other owners of the property: George Perkins Marsh, Mary Montagu Billings French, Laurance Rockefeller, and Mary French Rockefeller.
maps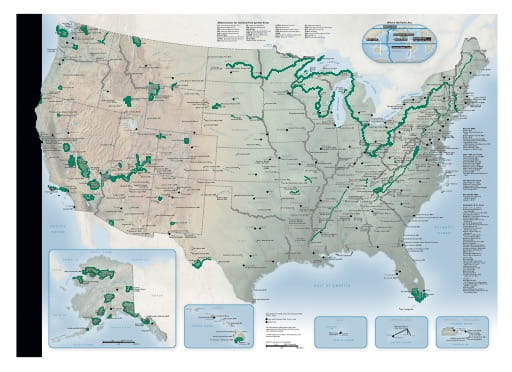 National Park System - National Park Units
Map of the U.S. National Park System. Published by the National Park Service (NPS).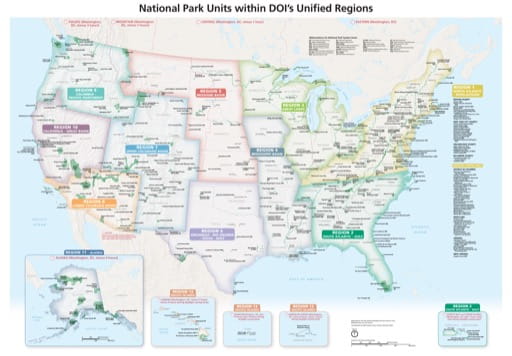 National Park System - National Park Units and Regions
Map of the U.S. National Park System with Unified Regions. Published by the National Park Service (NPS).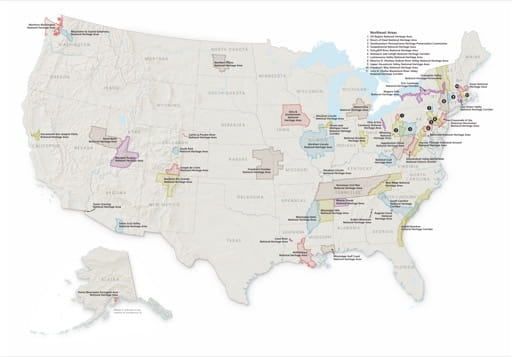 National Park System - National Heritage Areas
Map of the U.S. National Heritage Areas. Published by the National Park Service (NPS).
https://www.nps.gov/mabi/index.htm https://en.wikipedia.org/wiki/Marsh-Billings-Rockefeller_National_Historical_Park Marsh-Billings-Rockefeller National Historical Park is located in Woodstock, Vermont. The park preserves the site where Frederick Billings established a managed forest and a progressive dairy farm. The name honors Billings and the other owners of the property: George Perkins Marsh, Mary Montagu Billings French, Laurance Rockefeller, and Mary French Rockefeller. Walk through one of Vermont's most beautiful landscapes, under the shade of sugar maples and 400-year-old hemlocks, across covered bridges and alongside rambling stone walls. This is a landscape of loss, recovery, and conservation. This is a story of stewardship, of people taking care of places - sharing an enduring connection to land and a sense of hope for the future. Parking is at the Billings Farm & Museum Overflow Parking lot. If using a GPS, please enter "69 Old River Rd, Woodstock, VT 05091". If you'd like to watch the park film, begin your visit at the Billings Farm & Museum Visitor Center. To enter the National Park, take the paved path to the right of the Billings Farm & Museum Visitor Center, walk up and cross the street, and then take the left fork to reach the Marsh-Billings-Rockefeller National Historical Park Carriage Barn Visitor Center. Carriage Barn Visitor Center This is the only visitor center operated by Marsh-Billings-Rockefeller National Historical Park. Explore the exhibit, "A Place in the Land", visit the America's National Park bookstore, visit Park Rangers to receive maps or orientation information, or sign up for a guided tour or hike. The Carriage Barn Visitor Center is typically open daily from 10am to 5pm, Memorial Day weekend (late May) to Oct 31. In the winter months, the building can be opened weekdays with an advanced appointment. Mansion Gardens Visitors amongst the blooms in the Mansions formal gardens Celebrate Spring and Summer in the glorious Mansion gardens and grounds Summer Community Days at the Park Visitors enjoy art during summer community day event Family fun during the Park's summer community day celebration Winter at Marsh-Billings-Rockefeller Winter sports at the park Cross-country skiiers enjoy a brilliant day in the park! Autumn Hikers in the Park Hikers enjoying fall foliage during a park event Hikers pose with ranger on Mount Tom during fall foliage on a park event Conservator in Action! Up-Close with Marsh-Billings-Rockefeller NHP's Asian Prints On April 15-18, 2019, Marsh-Billings-Rockefeller National Historical Park (MABI) hosted paper conservator Angela Campbell from the Historic Architecture, Conservation, and Engineering Center in Lowell, MA. Angela conducted a survey of Asian, primarily Japanese, woodblock prints. This was her second survey of works of art on paper at MABI, so she is becoming very familiar with the park's museum collection. Angela went item by item through 460 woodblock prints. 2009 NPS Environmental Achievement Awards Recipients of the 2009 Environmental Achievement Awards NETN Species Spotlight - Your Flowers, Shrubs, and Plants Native species - birds, insects, plants, etc - need our help. When planning your yard layout, consider adding some valuable native plants to the mix. Red maple flowers NETN Species Spotlight - Wild Turkey Wild Turkeys are one of the most iconic species in America. They have a long, and as it turns out, mythic history. Wild Tom Turkey. Wayne Dumbleton. NETN Species Spotlight - Hermit Thrush The Hermit Thrush's ethereal song is a mainstay of summers in the Northeastern U.S. But climate change could mean its song will only be heard north of the border if warming continues unabated. A Hermit Thrush perches on the forest floor. National Park Forests - More Than a Pretty Picture A study led by NETN shows that eastern National Park forests hold greater complexity and ecosystem function that the surrounding forest. A forest tech measures the size of a tree. Species Spotlight - Red Crossbill The Red Crossbillis one of the most unique and specialized birds of North America. Learn about their traits and habits, and how you may encounter a flock of them during this irruption year. . A Red Crossbill sits on a conifer tree. Women Amidst War The extreme demands of wartime industry and the loss of traditional family breadwinners to military service caused hardship, but also presented opportunities to women for employment, volunteerism, and activism that previously had been unavailable to them. While many of these gains would be temporary, the Civil War nonetheless represents an important step forward in American society's view of the role of women. Women were increasingly seen (and saw themselves) as the foundat Photo of women at a house on the Cedar Mountain battlefield Citizen Science in the Digital Age With well over 100 citizen-science based apps now available for smartphones, there is no lack of opportunity for people of all ages and affectations to significantly add to the collective knowledge base about many aspects of the natural world. The phrase "there is an app for that" has perhaps never been more true for natural resource monitoring. Students use microscopes to identify pond species at the Marsh-Billings-Rockefeller NHP Bioblitz. Designing the Parks: Learning in Action The Designing the Parks program is not your typical internship. Each year since 2013, this program at the Olmsted Center for Landscape Preservation has introduced a cohort of college students and recent graduates to NPS design and planning professions through projects related to cultural landscape stewardship. In the internships, made possible by partner organizations, participants focus on an in-depth project that directly engages with a national park unit. A group of young people stand on forest trail and listen to two maintenance employees NETN Species Spotlight - Ruby-throated Hummingbird The ruby-throated hummingbird is the only bird of that species that makes its home east of the Mississippi. Learn more about this remarkable bird. A hummingbird feeds on a flower Emancipation and the Quest for Freedom Although the abolition of slavery emerged as a dominant objective of the Union war effort, most Northerners embraced abolition as a practical measure rather than a moral cause. The war resolved legally and constitutionally the single most important moral question that afflicted the nascent republic, an issue that prevented the country from coalescing around a shared vision of freedom, equality, morality, and nationhood. Slave family seated in front of their house NETN Species Spotlight: Monarch Butterfly The monarch butterfly is a majestic insect. Mimicry, migration, and metamorphosis all help to make it the true king of butterflies. But it's numbers have been dropping dramatically in recent years. Learn more about this amazing species and how you can help to save it. Monarch butterfly on a Meadow Blazing Star plant NETN Species Spotlight: Japanese Knotweed Japanese knotweed is a very robust invasive plant species. Learn why it spreads so readily outside of its native Japan, and how the NPS and other groups are trying to control it. Japanese knotweed plant NETN Species Spotlight: Acorn Barnacle Barnacles may at first glance appear to have the most boring of lives. But dig a little deeper into these crafty crustaceans, and you'll learn they are among the most fascinating of seashore creatures. Barnacle feeding close-up NETN Species Spotlight - Northern Short-tailed Shrew The northern short-tailed shrew seems like an impossible mash-up of different creatures. From venomous saliva to echolocation, this tiny predator employs many tactics to satiate an endless appetite. Short-tailed Shrew Nelson Rockefeller and Civil Defense Nelson Rockefeller was a businessman, foundation head, cabinet-level US government official, and four-term governor of New York. He was engaged throughout his life with shaping public policy in direct and indirect ways. One of Nelson Rockefeller's most passionately-pursued ideas during the 1950's and 1960's was the necessity of fallout shelters for civil defense. President Kennedy meets with Governors on Civil Defense, 9 May 1961 The Positive Side of Zero For something that essentially represents "nothingness", the number zero carries a lot of weight when collecting data. a stone zero What's the Buzz? How Bees Interrelate with Birds, Wildflowers, and Deer Ecosystems are complex and intricate and sometimes have a surprising web of relationships. Learn how deer, bees, birds, and wildflowers connect in the park ecosystems of the northeast. A bee pollinates a wildflower Wild, Wacky, and Weird Weather. What the? A look at the difference between weather and climate. A Vermont blizzard. NETN Species Spotlight - Fisher The fisher is a very capable predator of northeastern forests. Learn about the ways this large member of the weasel family makes its living. A large male fisher sitting Species Spotlight - Crazy Snakeworm Because of the scouring action of the ice age, earthworms are not native to the northeast. One species in particular, the crazy snake worm, has the potential to greatly alter the natural forest ecosystems in our region. An earthworm held in a person's hand Species Spotlight - Giant Hogweed Giant hogweed is a particularly nasty intruder across much of the country. Find out how the NPS looks for it in parks, and what to do if you spot one in your yard. A person is dwarfed by a giant hogweed plant. NETN Species Spotlight - Eastern Coyote The eastern coyote is a new predator on the scene. But where did it come from and why is it so much larger than its western cousins? Learn about how this animal came to be and the important ecological niches it is filling in the Northeast. A coyote stares at the camera. Lessons Learned from a Decade of Forest Health Monitoring in NETN After more than 10 years of monitoring forest health in NETN parks, plant ecologist Kate Miller shares here knowledge and insights and current forest conditions and tips on long term forest management. A forest glade NPS Geodiversity Atlas—Marsh-Billings-Rockefeller National Historical Park, Vermont Each park-specific page in the NPS Geodiversity Atlas provides basic information on the significant geologic features and processes occurring in the park. Links to products from Baseline Geologic and Soil Resources Inventories provide access to maps and reports. [Site Under Development] aerial view of historical park Bat Population Monitoring at Marsh-Billings-Rockefeller National Historical Park Marsh-Billings-Rockefeller National Historical Park supports a variety of wildlife, including eight species of bats. Unfortunately, a new bat disease called white-nose syndrome has negatively affected bat populations in the park. To better protect bats, scientists are studying how local bat populations are changing. A little brown bat clinging to the side of a tree. NETN Field Note: Deer, Worms, and Invasives When too many deer, earthworms, and invasive plant species work i concert, detrimental effects happen to the health of northeastern forests. Forest health monitoring NETN Species Spotlight - Turkey and Black Vultures Vultures have the thankless job of cleaning the environment up of dead animal carcasses. Learn how they are able to do it without getting sick from deadly bacteria. Close-up of a Black Vulture. Doug Greenberg. NETN Species Spotlight - Sharp-shinned Hawk About the size of a Blue-Jay, Sharp-shinned Hawks are aerial acrobats and are the smallest of three North American agile hawks known as the accipiters (ah-sip-it-ers). Learn more about this amazing and oft misunderstood hawk. Sharp-shinned Hawk perched on a branch NETN Species Spotlight - Snowshoe Hare Snowshoe hare are perfectly adapted to their cold, snow environments. Even so, a warming climate and a complex predator/prey relationship has a large influence on their overall population. The enormous hind feet of snowshoe hare. NETN Species Spotlight - Ruffed Grouse Ruffed Grouse have evolved many effective and surprising traits that allow them to survive northeastern winters. Ruffed Grouse displaying Lucas Bobay Shaping the System under President George H.W. Bush President George H.W. Bush was an ardent supporter of the national parks. Explore some the parks that are part of the legacy of the presidency of George H.W. Bush, who served as the 41st president of the United States from January 20, 1989 to January 20, 1993. President George H.W. Bush shaking hands with a park ranger at the World War II Memorial Bat Projects in Parks: Marsh-Billings-Rockefeller National Historic Park Survey of bats across multiple states in Marsh-Billing-Rockefeller National Historic Park! A mansion on a rolling green hill in Marsh-Billing-Rockefeller National Historic Park Champlain Valley NHP Hosts One NPS Workshop The CVNHP assembled its NPS state and local partners for a workshop in early July to discuss strategies for improving collaboration between their organizations. "One NPS" aimed to identify overlapping priorities and opportunities to better protect the many cultural, historical and natural resources of the interconnected waterways of Lake Champlain and its eleven surrounding counties. One Workshop attendees enjoyed a walking tour of Plattsburgh, NY NETN Species Spotlight - Short-tailed Weasel The short-tailed weasel is as energetic as it is resourceful. It has had a reputation of being both virtuous and vile over the centuries. Find out more about the amazing capabilities of this slender member of the weasel family An ermine in full white. NETN Species Spotlight - Paper Birch The Paper Birch is undeniably a tree of the north woods. Entwined in lore and legend, it has been a key part of ecosystems and cultures since well before the time of the Neanderthals even. Paper birch trees in winter. The Civilian Experience in the Civil War After being mere spectators at the war's early battles, civilians both near and far from the battlefields became unwilling participants and victims of the war as its toll of blood and treasure grew year after year. In response to the hardships imposed upon their fellow citizens by the war, civilians on both sides mobilized to provide comfort, encouragement, and material, and began to expect that their government should do the same. Painting of civilians under fire during the Siege of Vicksburg NETN Species Spotlight - Serviceberry Though it goes by many names, the serviceberry tree is much loved by people and birds alike. Learn more about one of spring's first bloomers and why you should plant one in your yard. Serviceberries ripening. Unmanned Aircraft Assists with Aerial Photographs for Illustration Project Marsh-Billings-Rockefeller National Historical Park needed aerial photographs for a high priority project. They completed the project through the use of unmanned aircraft outside of the park boundaries. A woman stands next to a large canvas painting. The Civil War in American Memory America's cultural memories of the Civil War are inseparably intertwined with that most "peculiar institution" of American history - racial slavery. But in the struggle over Civil War memory which began as soon as the war was over and continues to this day, rival cultural memories of reconciliation and white supremacy have often prevailed. Therein lies the challenge as the National Park Service - a public agency - seeks to "provide understanding" of the Civil War era's lasting impact upon the development of our nation. Elderly Union and Confederate veterans shake hands at the fiftieth anniversary of the Battle of Gettysburg The Changing War Begun as a purely military effort with the limited political objectives of reunification (North) or independence (South), the Civil War transformed into a social, economic and political revolution with unforeseen consequences. As the war progressed, the Union war effort steadily transformed from a limited to a hard war; it targeted not just Southern armies, but the heart of the Confederacy's economy, morale, and social order-the institution of slavery. Woodcut of spectators watching a train station set fire by Sherman's troops NETN Species Spotlight - American Woodcock The American Woodcock is a quirky bird. Learn about their habits. and why they are a welcome sight (and sound) each spring in the Northeast, An American Woodcock walks on the forest floor. Kennedy, Rockefeller, and Civil Defense In May 1961, as Chair of the Civil Defense Committee of the Conference of Governors, Nelson Rockefeller met with President Kennedy to advocate for a national fallout shelter program. Two weeks later, Kennedy addressed a joint session of Congress, noting the "apathy, indifference, and skepticism" surrounding civil defense policy and asking for appropriations for "a much strengthened Federal-State civil defense program." Artist's rendition of a Temporary Basement Fallout Shelter Managing Land for Bobolinks Bobolinks are one of the many species of birds that call Marsh-Billings-Rockefeller National Historical Park home. Learn more about what makes the Bobolink special and how you can protect their habitat in this Working Woodlands series video with Park Ranger Daniel Puckette, and Allan Strong and Margret Fowle of the Bobolink Project. Pair of Boblinks in field Civil Defense Through Eisenhower As Cold War tensions escalated throughout the 1950's, both United States and the Soviet Union were forced to confront the unprecedented prospect of sudden, massive losses to their populations. The question of civil defense—the protection of civilian lives during a nuclear exchange—was passionately debated in the United States. Cartoon of Bert The Turtle practicing Duck and Cover Species Spotlight - Puffballs Puffballl mushrooms offer many joys - from stomping on them as children to eating them fried with butter. Learn more about this natural history of this fascinating fungi. Puffball emitting spores. National Park Service Commemoration of the 19th Amendment In commemoration of the 100th anniversary of the passing of the 19th Amendment the National Park Service has developed a number of special programs. This includes online content, exhibits, and special events. The National Park Service's Cultural Resources Geographic Information Systems (CRGIS) announces the release of a story map that highlights some of these programs and provides information for the public to locate and participate. Opening slide of the 19th Amendment NPS Commemoration Story Map Series: National Park Service Geodiversity Atlas The servicewide Geodiversity Atlas provides information on <a href="https://www.nps.gov/subjects/geology/geoheritage-conservation.htm">geoheritage</a> and <a href="https://www.nps.gov/subjects/geology/geodiversity.htm">geodiversity</a> resources and values all across the National Park System to support science-based management and education. The <a href="https://www.nps.gov/orgs/1088/index.htm">NPS Geologic Resources Division</a> and many parks work with National and International <a href="https://www.nps.gov/subjects/geology/park-geology.htm">geoconservation</a> communities to ensure that NPS abiotic resources are managed using the highest standards and best practices available. park scene mountains Series: NPS Environmental Achievement Awards Since 2002, the National Park Service (NPS) has awarded Environmental Achievement (EA) Awards to recognize staff and partners in the area of environmental preservation, protection and stewardship. A vehicle charges at an Electric Vehicle charging station at Thomas Edison National Historical Park Series: Cold War Civil Defense: From "Duck and Cover" to "Gun Thy Neighbor" The very notion of citizen-constructed civil defense—responsibility for fallout protection undertaken by individual American suburban families—has been depicted by some historians as a cynical, low-cost ploy to calm the fears of and elicit compliance from the American pubic in the terrifying face of nuclear brinksmanship over which they had no control. Photograph of a display of survival supplies for the well-stocked fallout shelter, ca.1961. Species Spotlight - Cecropia Moth Cecropia moths are the largest moth in North America. Their fascinating one-year life cycle is one of the most amazing transformations known to nature. Face of a male cecropia moth. Invasion of the Biome Bashers Invasive plants are a concerning and growing issue for eastern national parks. Learn what is spreading, and how some parks are seeing success in managing them. Glossy buckthron Changing Patterns of Water Availability May Change Vegetation Composition in US National Parks Across the US, changes in water availability are altering which plants grow where. These changes are evident at a broad scale. But not all areas experience the same climate in the same way, even within the boundaries of a single national park. A new dataset gives park managers a valuable tool for understanding why vegetation has changed and how it might change in the future under different climate-change scenarios. Green, orange, and dead grey junipers in red soil, mountains in background Resilient Forests Initiative - Managing Invasive Plants & Pests Park forests are threatened by invasive plants and pests. Strategically tackling invasive plants to protect park's highest priority natural resources and planning around forest pests and pathogens are important actions in managing resilient forests. Forest Regeneration Series: Managing Resilient Forests Initiative for Eastern National Parks Forests in the northeastern U.S. are in peril. Over-abundant deer, invasive plants, and insect pests are impacting park forests, threatening to degrade the scenic vistas and forested landscapes that parks are renowned for. With regional collaboration, parks can manage these impacts and help forests be resilient. This article series explores tools available to park managers to achieve their goals. Healthy forests have many native seedlings and saplings. I&M Networks Support Resilient Forest Management NPS Inventory and Monitoring Networks have been tracking forest health in eastern national parks since 2006. This monitoring information can guide resilient forest management and support parks in adapting to changing conditions through the actions described below. Forest health monitoring Bird, Pollinator, & Wildlife Habitat Not Just for National Parks Anymore. Cultivating native plants and trees in your yard is more important than ever before to sustain our bird and pollinator species. Learn how you can do more. A song sparrow with a mouthful of insects. Species Spotlight - Eastern Phoebe The return of Eastern Phoebes early each spring is a soul-satisfying, calendar-turning event after a long northeastern winter. Eastern Phoebe Managing Resilient Forests. A Regional Initiative Forests cover tens of thousands of acres in eastern national parks and these critical resources face a range of interacting stressors: over-abundant white-tailed deer populations, invasive plant dominance, novel pests and pathogens, among other threats. The Resilient Forests Initiative will help parks address these issue collectively. Forest health monitoring Resilient Forests Initiative - Forest Complexity Much of the forest in the eastern United States is around the same age, regrowing after widespread land clearing that peaked between the 1880's and 1920's. Throughout the twentieth century, forests began to regenerate, eventually spreading onto abandoned agricultural lands. Canopy gap Species Spotlight - Deer Tick Deer ticks are an increasing problem in the northeast. Learn more about why they are increasing, the way they spread Lyme disease, and how to prevent getting a tick bite. And there are also lizards. Warm lizard. Species Spotlight - Dragonflies Dragonflies have incredible powers of flight and vision. Learn how they use these to catch just about anything they want on the wing. Dragonfly nymph. Species Spotlight - White Ash White ash trees are an integral part of the forests of the Northeast, and they are under grave threat of ceasing to exist as a mature canopy species in the near future. The culprit is a tiny invasive insect called the Emerald Ash Borer. Learn more about the current state of ash trees in the region, and learn how to help slow the spread of this destructive forest pest. White ash seedling Species Spotlight - Oaks Oaks appear so often in the story of humanity that it could scarcely have been written without them. Learn more about this amazing trees species and how it has shaped cultures across the world. A white oak branch with acorns Species Spotlight - Flying Squirrels Tiny and cute, flying squirrels are efficient gliders with a few surprises tucked away under their furry sleeves. A Southern Flying Squirrel. Species Spotlight - Red Fox Legendary for their cunning cleverness, red fox are equally at home in the trackless wilderness as they are in a tract-housing development. It has established itself world-wide, and it's very particular set of skills makes it a nightmare for hapless meadow voles. A Red Fox.