Puʻu O Mahuka Heiau

State Historic Park - Hawaiʻi
Puʻu o Mahuka Heiau State Historic Site on the North Shore of Oʻahu is the largest heiau on the island located on a hilltop overlooking Waimea Bay and Waimea Valley. From its commanding heights, sentries could once monitor much of the northern shoreline of Oʻahu, and even spot signal fires from the Wailua Complex of Heiaus on Kauaʻi, with which it had ties. Puʻu o Mahuka means "Hill of Escape." Hawaiian legends have it that from this point, the volcano goddess Pele leaped from Oʻahu to the next island, Molokaʻi. At the start of Makahiki, the four months of Hawaiian New Year, an observer standing at Kaʻena Point would see the Pleiades (Makaliʻi) rising out of Pu'u o Mahuka Heiau just after sunset. The site can be reached from Pupukea Homestead Road (Highway 835), which starts at Kamehameha Highway (Highway 83) across from Pupukea fire station.
maps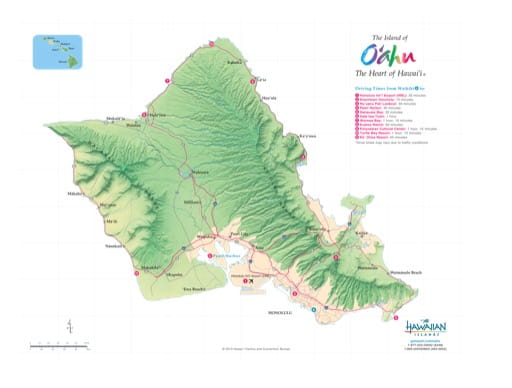 Oʻahu - Driving Map
Driving Map of Oʻahu (Oahu) in Hawaii. Published by the Hawaii Visitors & Convention Bureau.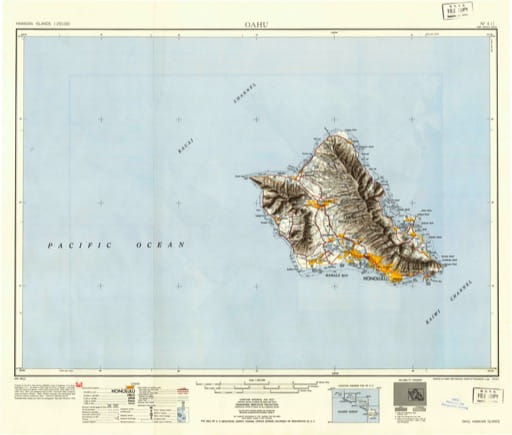 Oʻahu - Vintage USGS Map - Oahu 1951
Vintage map of Hawaiian Islands - Oahu 1951. Published by the U.S. Geological Survey (USGS).
brochures
Hawaiʻi State Parks - Visitor's Guide
A Visitor's Guide to Hawaiʻi State Park Resources and Recreational Opportunities. Published by Hawaii State Parks.
Hawaiʻi State Parks - Hiking Safely
Brochure about Hiking Safely in Hawaiʻi. Published by Hawaii State Parks.