Keaīwa Heiau

State Recreation Area - Hawaiʻi
Keaʻiwa Heiau State Recreation Area is the ruins of a temple (Heiau in the Hawaiian language) at the summit of a hill and neighborhood called ʻAiea Heights on Oʻahu, Hawaiʻi. The recreation area includes camping facilities and a 4.8-mile (7.7 km) trail. It also offers clear views of Pearl Harbor. Erected sometime in the 16th century, the 160 feet (49 m) stone temple and abundant medicinal herbs in the area were used by kahunas as a type of ancient herbal clinic. The kahunas would also train haumanas (students) in the practice of praying, fasting, and medicinal healing using the neighboring plants. The reputed healing powers of the surrounding plants still draws visitors who leave temple offerings, hoping to experience medicinal benefits.
maps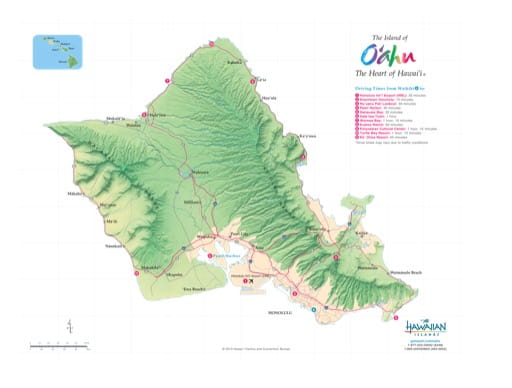 Oʻahu - Driving Map
Driving Map of Oʻahu (Oahu) in Hawaii. Published by the Hawaii Visitors & Convention Bureau.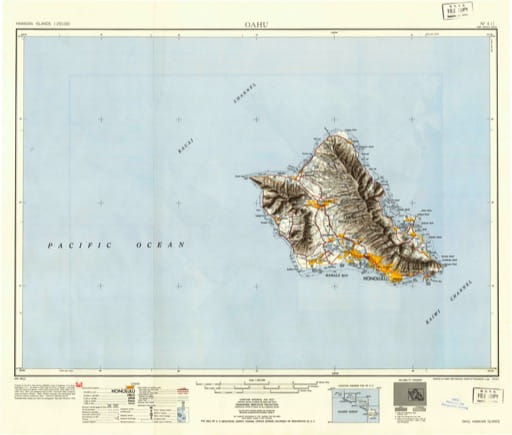 Oʻahu - Vintage USGS Map - Oahu 1951
Vintage map of Hawaiian Islands - Oahu 1951. Published by the U.S. Geological Survey (USGS).
brochures
Hawaiʻi State Parks - Visitor's Guide
A Visitor's Guide to Hawaiʻi State Park Resources and Recreational Opportunities. Published by Hawaii State Parks.
Hawaiʻi State Parks - Hiking Safely
Brochure about Hiking Safely in Hawaiʻi. Published by Hawaii State Parks.