ʻĪao Valley

State Monument - Hawaiʻi
Iao Valley is a lush, stream-cut valley in West Maui, Hawaii, located 3.1 miles (5 km) west of Wailuku. The state park is located at the end of Iao Valley Road (Highway 32). The Iao Needle (Kūkaemoku), a landmark in the state park, is a vegetation-covered lava remnant rising 1,200 feet (370 m) from the valley floor or 2,250 feet (690 m) above sea level. The "needle" is a sharp ridge that gives the appearance of being a spire when viewed end-on. The needle is an extension of and surrounded by the cliffs of the West Maui Mountains, an extinct volcano. There is a short trail (Iao Needle Lookout Trail and Ethnobotanical Loop) to a windy overlook.
maps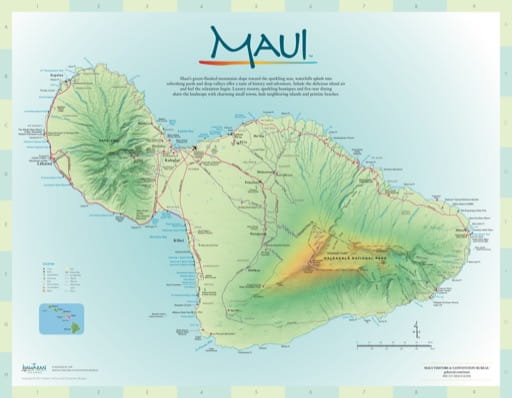 Maui - Driving Map
Driving Map of Maui in Hawaii. Published by the Maui Visitors & Convention Bureau.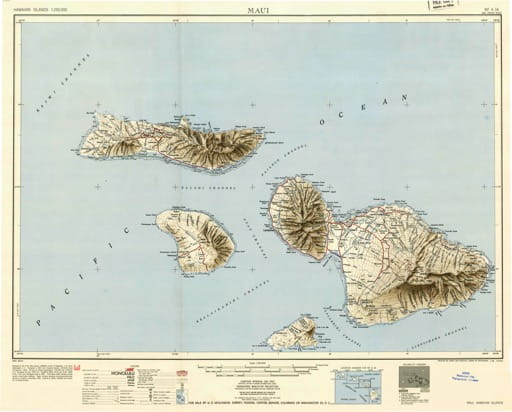 Maui - Vintage USGS Map - Maui 1951
Vintage map of Hawaiian Islands - Maui 1951. Published by the U.S. Geological Survey (USGS).
brochures
Hawaiʻi State Parks - Visitor's Guide
A Visitor's Guide to Hawaiʻi State Park Resources and Recreational Opportunities. Published by Hawaii State Parks.
Hawaiʻi State Parks - Hiking Safely
Brochure about Hiking Safely in Hawaiʻi. Published by Hawaii State Parks.