Diamond Head

State Monument - Hawaiʻi
Diamond Head is a volcanic tuff cone on the Hawaiian island of Oʻahu and known to Hawaiians as Lēʻahi. The Hawaiian name is most likely derived from lae (browridge, promontory) plus ʻahi (tuna) because the shape of the ridgeline resembles the shape of a tuna's dorsal fin. Diamond Head is part of the system of cones, vents, and their associated eruption flows that are collectively known to geologists as the Honolulu Volcanic Series, eruptions from the Koʻolau Volcano that took place long after the volcano formed and had gone dormant. The Honolulu Volcanic Series is a series of volcanic eruption events that created many of Oʻahu's well-known landmarks, including Punchbowl Crater, Hanauma Bay, Koko Head, and Mānana Island in addition to Diamond Head.
maps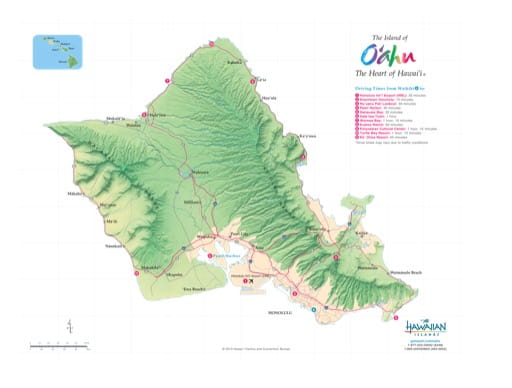 Oʻahu - Driving Map
Driving Map of Oʻahu (Oahu) in Hawaii. Published by the Hawaii Visitors & Convention Bureau.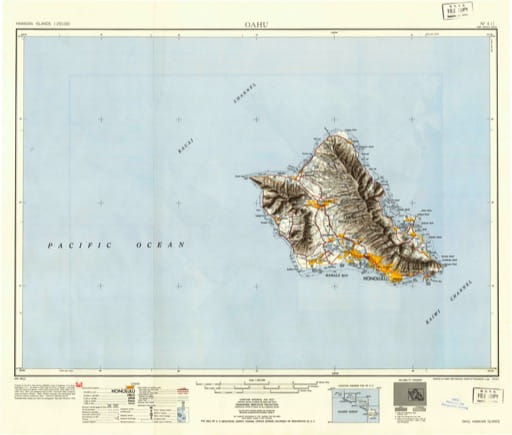 Oʻahu - Vintage USGS Map - Oahu 1951
Vintage map of Hawaiian Islands - Oahu 1951. Published by the U.S. Geological Survey (USGS).
brochures
Hawaiʻi State Parks - Visitor's Guide
A Visitor's Guide to Hawaiʻi State Park Resources and Recreational Opportunities. Published by Hawaii State Parks.
Hawaiʻi State Parks - Hiking Safely
Brochure about Hiking Safely in Hawaiʻi. Published by Hawaii State Parks.