J. N."Ding" Darling

National Wildlife Refuge - Florida
The J. N. "Ding" Darling National Wildlife Refuge is located in southwestern Florida, on Sanibel Island in the Gulf of Mexico. It is named after the cartoonist Jay Norwood "Ding" Darling.
maps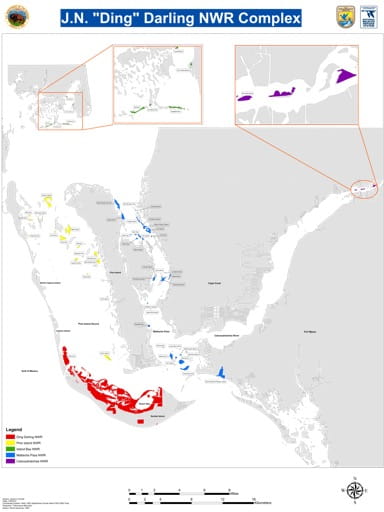 J.N. Ding Darling - Refuge Complex Map
Map of the J.N. 'Ding' Darlng National Wildlife Refuge Complex (NWR), consisting of the Ding Darling NWR, Pine Island NWR, Island Bay NWR, Matlacha Pass NWR, Caloosahatchee NWR. Published by the U.S. Fish & Wildlife Service (USFWS).