Lovers Key

State Park - Florida
For years, Lovers Key was accessible only by boat and it was said that only lovers traveled to the island to enjoy its remote and solitary beach. Today, it is one of four barrier islands that make up this state park. A haven for wildlife, the islands and their waters are home to West Indian manatees, bottlenose dolphins, roseate spoonbills, marsh rabbits, and bald eagles. The two mile long beach is accessible by boardwalk or tram and is popular for shelling, swimming, picnicking and sunbathing. Black Island has over five miles of multiuse trails for hiking and bicycling. Anglers and boaters can launch their vessels from the park's boat ramp. The park's concession offers kayak tours, as well as bicycle, canoe, kayak, paddleboard, beach chair and umbrella rentals.
maps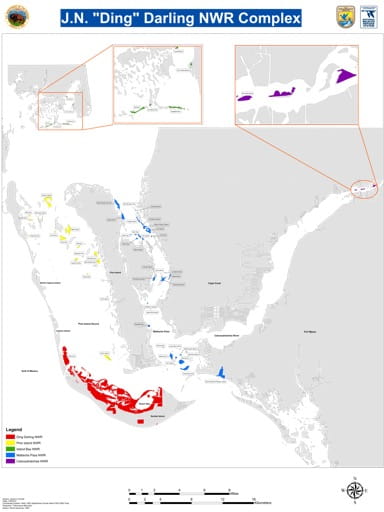 J.N. Ding Darling - Refuge Complex Map
Map of the J.N. 'Ding' Darlng National Wildlife Refuge Complex (NWR), consisting of the Ding Darling NWR, Pine Island NWR, Island Bay NWR, Matlacha Pass NWR, Caloosahatchee NWR. Published by the U.S. Fish & Wildlife Service (USFWS).
brochures
Lovers Key - Brochure
Brochure of Lovers Key State Park in Florida - where outdoor adventures are endless. Published by Florida State Parks.
Florida State Parks - Camping and Cabins Guide 2018. Published by Florida State Parks.
Camping and Cabins Guide brochure.