by Alex Gugel ,
all rights reserved
Standish-Hickey

State Recreation Area - California
Standish-Hickey State Recreation Area is the southern gateway to the world-famous redwood belt along California's North Coast. About 10 miles of trails weave through its steep canyon bluffs, second-growth forests, and clusters of old-growth redwoods. The tallest redwood, the 225-foot Captain Miles Standish Tree, is more than 1,200 years old. A two-mile stretch of the South Fork of the Eel River—with riffles, deep holes, and calm shallow areas—is popular with swimmers, kayakers, and anglers.
maps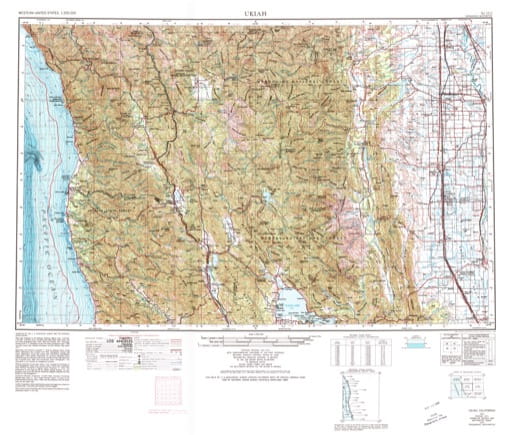 Vintage USGS - Ukiah - 1957
Vintage 1957 USGS 1:250000 map of Ukiah in California. Published by the U.S. Geological Survey (USGS).