Silver Strand

State Beach - California
Silver Strand, or simply The Strand, is a low, narrow, sandy isthmus or tombolo 7 miles (11 km) long in San Diego County, California partially within the Silver Strand State Beach. It connects Coronado Island with Imperial Beach. Together with the Point Loma peninsula it shelters and defines San Diego Bay. State highway 75 runs the length of the strand and is a popular site for jogging and bicycling. The Silver Strand Half Marathon is run along the route each November. Silver Strand State Beach, which encompasses both the San Diego Bay and Pacific Ocean sides of the strand, is a little farther off the beaten path of the highly popular beaches in Ocean Beach and Mission Beach, offering more solitude for those who wish to avoid beach crowds. The ocean side of the strand features 2.5 miles (4.0 km) of coastline trimmed with silver shells (thus named Silver Strand).
maps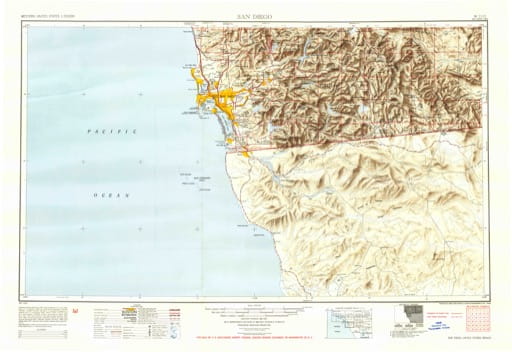 Vintage USGS - San Diego - 1950
Vintage 1950 USGS 1:250000 map of San Diego in California. Published by the U.S. Geological Survey (USGS).