San Gregorio

State Beach - California
San Gregorio State Beach is near San Gregorio, California, USA, south of Half Moon Bay. Part of the California State Park System, the beach lies just west of the intersection of California State Route 1 and State Route 84. San Gregorio Creek widens to form a small freshwater lagoon in the park behind a sand berm, or barrier beach, which typically blocks the mouth of the creek, forcing the creekwaters to flow underfoot as they seep into the Pacific Ocean. During the rainy season the creek often cuts through the sand berm and flows directly into the ocean. Historically the creek was a coho salmon spawning site, and the Department of Fish and Game is considering restocking it with coho to improve the salmon fisheries south of San Francisco. It is one of the cleanest in the state.
maps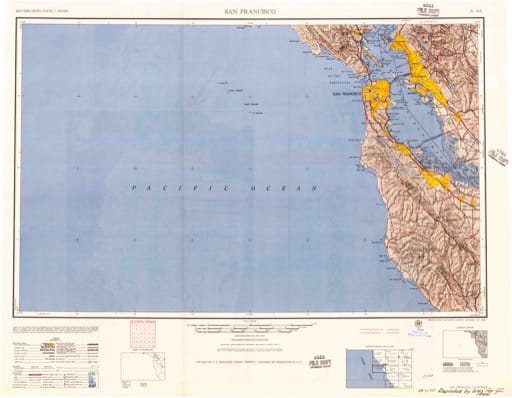 Vintage USGS - San Francisco - 1957
Vintage 1957 USGS 1:250000 map of San Francisco in California. Published by the U.S. Geological Survey (USGS).