Russian Gulch

State Park - California
Russian Gulch State Park is in coastal Mendocino County, California, two miles north of Mendocino and seven miles south of Fort Bragg. The park features 7630 feet of rocky ocean shores; it is approximately 3/4 of a mile wide from north to south at its widest point, and extends for approximately three miles from east to west. Russian Gulch is crossed by California State Highway 1, which passes over the gulch on the Frederick W. Panhorst Bridge, a large concrete arch bridge constructed in 1940. The park entrance is on the west side of Highway 1, north of the bridge, and connects by a one-lane road under the bridge to the eastern part of the park. The smaller, western portion of the park consists largely of headlands with a blowhole and picnic areas, while the larger eastern portion of the park includes a campground, the park headquarters, and several trails for bicycles, hikers, and horses. A 2.5 mile hike from the trailhead at the east end of the campground to a 36-foot waterfall largely follows an abandoned logging road along the creek. A small beach, physically in the western part of the park but accessed by a road from the eastern side, is equipped with a restroom and an outdoor shower; swimming, skin diving, fishing, and tide pool exploration are all possible.
maps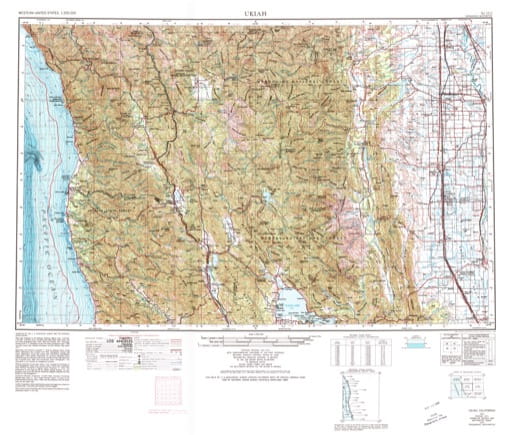 Vintage USGS - Ukiah - 1957
Vintage 1957 USGS 1:250000 map of Ukiah in California. Published by the U.S. Geological Survey (USGS).