Picacho

State Recreation Area - California
Picacho State Recreation Area is a camping, boating, and general recreation area located on a 9-mile stretch of the lower Colorado river at the site of Picacho, a defunct gold mining town. Picacho is a popular wintertime/springtime destination for boating, fishing, hiking and camping. This remote park is located in the far southeastern corner of California and includes 54 campsites, 3 boat launches, and 5 river camps. Favorite activities at the park include stargazing, and bird and wildlife viewing (including the famous desert resident, the Bighorn sheep). The mining town of Picacho sat on this spot in the early 1900s. The remains of a stamp mill that was used to crush the gold ore during mining operations is a popular hiking destination. This section of the Colorado River is a popular stopover for migratory waterfowl - ducks, geese, ibis and cormorants - usually seen by the thousands in spring and fall. Other waterfowl are found here year round.
maps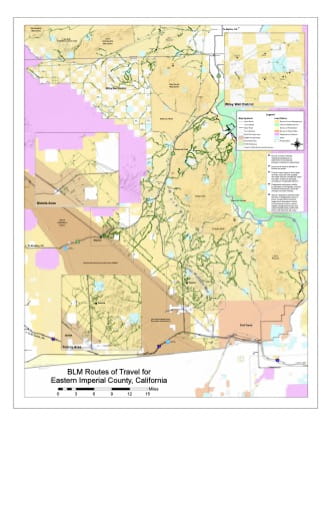 Imperial County - Travel Map East
Map of Routes of Travel for Eastern Imperial County in El Centro Field Office area. Published by the Bureau of Land Management (BLM).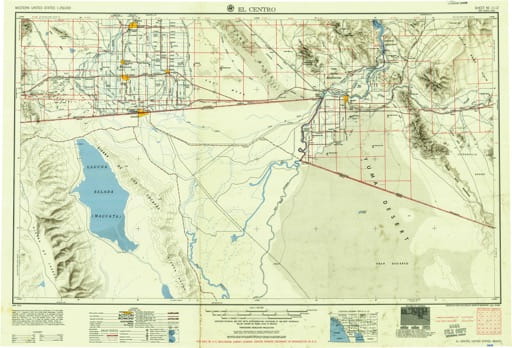 Vintage USGS - El Centro - 1955
Vintage 1955 USGS 1:250000 map of El Centro in California and Arizona. Published by the U.S. Geological Survey (USGS).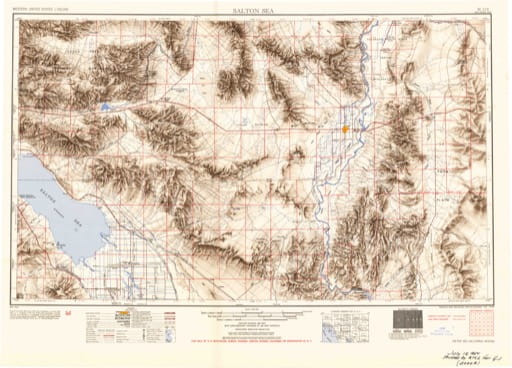 Vintage USGS - Salton Sea - 1954
Vintage 1954 USGS 1:250000 map of Salton Sea in California and Arizona. Published by the U.S. Geological Survey (USGS).