Montgomery Woods

State Natural Reserve - California
Montgomery Woods State Natural Reserve is located in the Coastal Range in Mendocino County, California. The Reserve occupies the headwaters of Montgomery Creek, a tributary of Big River, which flows into the Pacific Ocean at Mendocino Headlands State Park. The virgin groves of Coast Redwood (Sequoia sempervirens) in Montgomery Woods are examples of a now rare upland riparian meadow habitat; most other preserved redwood groves are on broad alluvial plains. The Reserve is accessed from a parking area along Orr Springs Road 13 miles (21 km) west of Ukiah, California, or 15 miles (24 km) east of Comptche, California. A moderately steep trail from the parking area climbs uphill along Montgomery Creek about three-quarters of a mile. Once in the grove, the trail makes a meandering three mile (5 km) loop, with substantial use of boardwalks to protect the fragile forest floor.
maps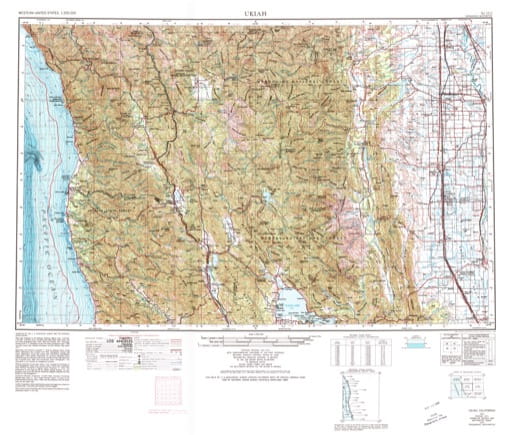 Vintage USGS - Ukiah - 1957
Vintage 1957 USGS 1:250000 map of Ukiah in California. Published by the U.S. Geological Survey (USGS).