by Alex Gugel ,
all rights reserved
Mendocino Headlands

State Park - California
Mendocino Headlands State Park in Mendocino, California, cconsists of 347 acres (1.4 km2) of undeveloped seaside bluffs and islets surrounding the town of Mendocino, two beaches (Big River Beach and Portuguese Beach), and the much larger Big River Unit stretching for eight miles (13 km) along both banks of the nearby Big River. The park began operation in 1974, after several years of concern and discussion from citizens about the possibility of blufftop development. The Big River Unit was added in 2002.
maps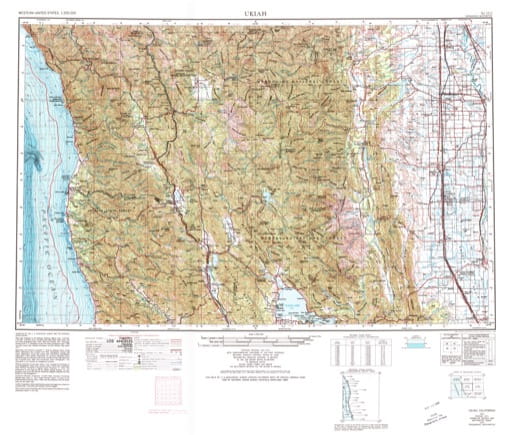 Vintage USGS - Ukiah - 1957
Vintage 1957 USGS 1:250000 map of Ukiah in California. Published by the U.S. Geological Survey (USGS).