by Alex Gugel ,
all rights reserved
Hearst San Simeon

State Park - California
Hearst San Simeon State Park preserves rocky coast and rare habitats. It is located between Cambria and San Simeon. The park includes the Santa Rosa Creek Natural Preserve, the San Simeon Natural Preserve and the Pa-nu Cultural Preserve, which were established in 1990. A 3.3-mile (5.3 km) trail runs through parts of the San Simeon Natural Preserve and the Washburn Campground. The trail includes scenic overlooks, rest-stop benches and interpretive panels with information on wildlife and habitat. Santa Rosa Creek Preserve is an area that includes valuable riparian forests and coastal wetlands, which provide habitat for endangered tidewater goby. San Simeon Natural Preserve consists of vast wetlands, riparian zones, and several undisturbed native plant communities, including unique mima mound topography. The Preserve is also the wintering site for monarch butterfly populations.
maps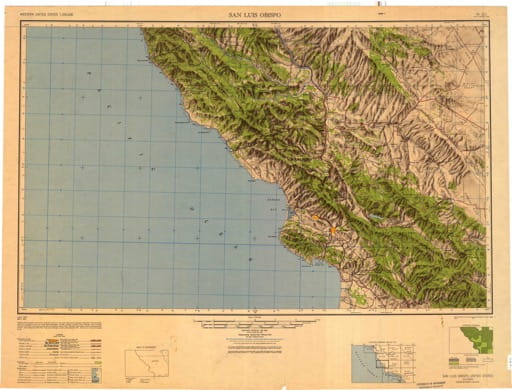 Vintage USGS - San Luis Obispo - 1947
Vintage 1947 USGS 1:250000 map of San Luis Obispo in California. Published by the U.S. Geological Survey (USGS).