by Alex Gugel ,
all rights reserved
Garrapata

State Park - California
Garrapata State Park is a located on Highway 1 6.7 miles (10.8 km) south of Carmel and 18 miles (29 km) north of Big Sur on the Monterey coast. It is marked only with one sign on the west side of the road. Numbered turnouts mark each parking area. Garrapata State Park has 2 miles (3.2 km) of beachfront, with coastal hiking and a 50-foot (15 m) climb to a view of the Pacific. The park offers diverse coastal vegetation with trails running from ocean beaches into dense coast redwood groves. The park also features coastal headlands at Soberanes Point. California sea lions, harbor seals and sea otters frequent the coastal waters while gray whales pass close by during their yearly migration. The beaches in the park have been used for nude recreation. Most of the park was burned over in the 2016 Soberanes Fire.
maps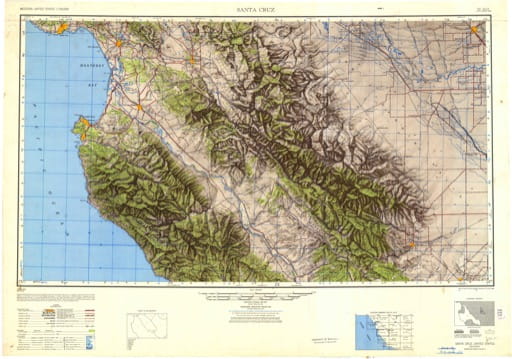 Vintage USGS - Santa Cruz - 1948
Vintage 1948 USGS 1:250000 map of Santa Cruz in California. Published by the U.S. Geological Survey (USGS).