Asilomar

State Beach - California
Asilomar State Beach provides public access to rocky coast and dune habitat on the Monterey Peninsula. The property includes the Asilomar Conference Grounds, a conference center built by the YWCA in 1913 that is now a National Historic Landmark. The 107-acre (43 ha) site is located in Pacific Grove and offers overnight lodging and views of the forest, surf and sand. Asilomar (meaning "Asylum or refuge by the sea" and pronounced a-SIL-o-mar) is a combination of two Spanish words: "asilo" and "mar".
maps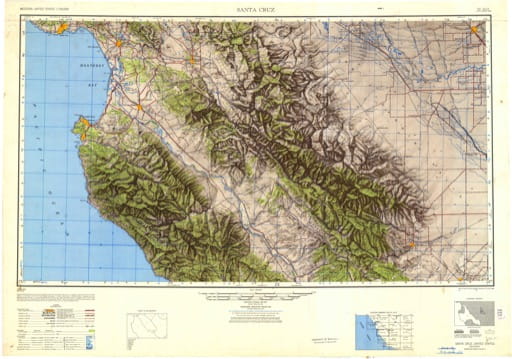 Vintage USGS - Santa Cruz - 1948
Vintage 1948 USGS 1:250000 map of Santa Cruz in California. Published by the U.S. Geological Survey (USGS).