Unalakleet

Wild and Scenic River - Alaska
The clear, smooth waters of the Unalakleet National Wild River meander gently among the rolling Nulato Hills and across the broad expanses of the active tundra to the seaside village of Unalakleet, Alaska, at the rocky shores of the Norton Sound. Located 400 miles from Anchorage, the village of Unalakleet has approximately 800 people and is accessible only by plane. The headwaters of the Unalakleet River originate in the Nulato Hills. These rolling hills divide rainfall and snow melt between Norton Sound and the Yukon River basin. At this point, the river is swift and channelized; once it reaches the valley floor it begins to meander. For most of its length, the river has a varying pool/riffle nature, which offers a great diversity of river characteristics, boating opportunities, and fishing opportunities.
maps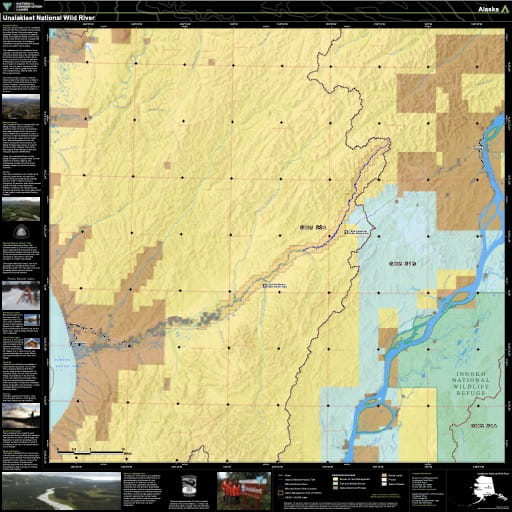 Unalakleet - Visitor Map
Map of Unalakleet Wild and Scenic River (WSR) in Alaska. Published by the Bureau auf Land Management (BLM).
brochures
BLM Alaska - Recreation
Brochure about Recreation in Alaska. Published by the Bureau of Land Management (BLM).