Mesa Site

undefined - Alaska
Lying atop a mesa-like rock outcrop, the location of the site is nothing less than breathtaking. From 200 feet up, ancient hunters had a 360-degree vantage point for spotting game such as bison and, possibly, mammoths. Until the site was discovered, archaeologists generally accounted for the early cultures in the lower 48 as the products of a single migration out of Asia. But the distinctiveness of the stone points found here — and at the Putu site 160 miles to the east — indicate that perhaps there were several migrations (Mesa artifacts range in date from 9,700 to 11,700 years old). Early Alaska may have been occupied by different cultures who spoke different languages, and had distinct ways of making tools.
maps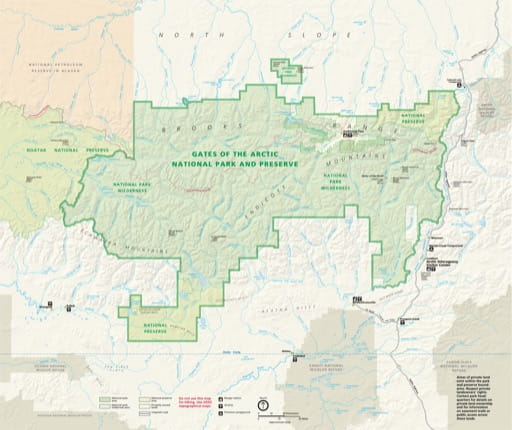 Gates of the Arctic - Visitor Map
Official visitor map of Gates Of The Arctic National Park & Preserve (NP & PRES) in Alaska. Published by the National Park Service (NPS).
brochures
Mesa Site - Ancient Hunting Lookout
Brochure of Alaska's Mesa Site: Ancient Hunting Lookout in northern Alaska. Published by the Bureau of Land Management (BLM).
BLM Alaska - Recreation
Brochure about Recreation in Alaska. Published by the Bureau of Land Management (BLM).